Festive Fareshare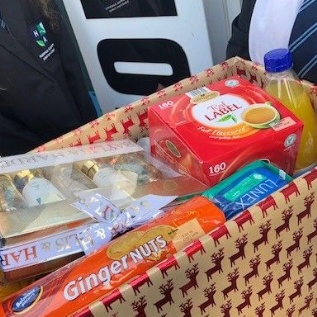 At the start of the festive season students at Holderness Academy took to thinking about others as they wrote a personal message to place on the Academy's empathy tree.
The tree got students thinking about how others less fortunate than themselves might spend Christmas; not worrying about having eaten too much but worrying about having enough to eat. Students then looked at a way to support people within their own community. This is when they found the awe inspiring charity 'Fareshare Hull & Humber'.
FareShare Hull & Humber redistributes surplus food from the food industry and local donations to more than 120 organisations throughout the region. This means that their network is now feeding more than 10,500 people every week who are directly affected by food poverty.
FareShare Hull & Humber is run in partnership with the Goodwin Development Trust, an organisation that provides a whole Family of Services designed to improve quality of life for all our communities.
Each form across the five year groups decided to put together a 'reverse advent'; each day of advent a non-perishable food item was added to the box – in many cases several items were added each day!
On Thursday December 20th volunteers, Steve and Paul, arrived in the van to collect – a chain of eager students formed to help the volunteers load the van with over 50 boxes full to the brim with food and cards intended for families who are in need of support within the local community.
Neve in Year 8 said 'I realise how important the reverse advent calendar really is as we are helping people who really need it. For me, that's the best thing about Christmas because it is in giving that we really receive.'
Mrs. Young the Executive Headteacher said 'Fareshare were overwhelmed with the students' efforts especially the care with which they presented the food and the personal cards they wrote.'
Most of the donations will be passed onto local hostels and domestic violence shelters. Holderness Academy is proud that their students are able take action to ensure others in their community have a special Christmas too.