Keeping Christmas Tradition!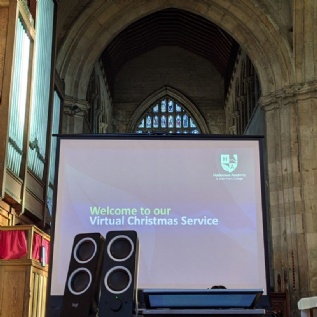 Holderness Academy has long since held a Christmas Service at St Augustine's - many have marked it as the start of Christmas. We believe it has a history beyond half a century!
This is a traditional service with the eight readings and we didn't want this year to be the year it didn't happen - we have made it happen in a different way.
The student council, staff, governors and the local reverend have created a virtual service for Christmas 2020.
Students have recorded the readings and have collected photographs taken by the academy community of the local area. Some of our students have also created art work.
Our students are very aware that many people can't visit places that mean something to them; a church where they got married, a school with memories, a favourite walk etc. Students hope these images and readings help people in the local community feel connected and that the service offers an opportunity to attend a service in a different way.
The 'Virtual Service' is to be shared with our local care homes this week and will be played in St Augustine's on Thursday morning for local people to have some private contemplation. It will also be shared on our website and the HU12 forum.
We marked the event by lighting a candle in the church and taking some mindful time to think of others and continue this important tradition. - we are determined this will not be the year that this tradition does not take place. Feedback has been overwhelmingly positive with a sense that this will make a difference and help some 'normal' things to continue.
Steve Gallant, Chair of Governors, said "It's fantastic that the Academy has been able to harness technology and the student's creativity to ensure the 50-year tradition of the school holding its Carol Service in the community is continued even this year. Let's hope we can all be back at St Augustine's next Christmas."
If you would like to watch our Virtual Christmas Service please click here