A Night to Remember!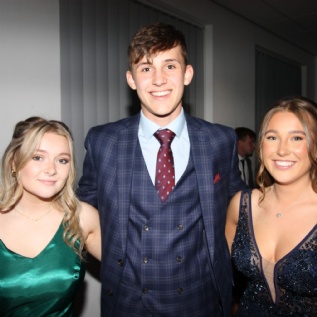 The long awaited Leavers' Ball 2021 took place in all its glory on the evening of the 23th September. The sun shone as leavers gathered on the bus park in their finest of attire.
A rainbow of colour and jewels sparkled in the evening light as the air crackled with excitement. Once photographs had been taken, the three coaches were on their way leaving a car park of proud family and friends waving behind them.
On arrival at Craven Park, party goers enjoyed the drinks reception as they checked the seating plan. The excited conversations continued as the three-course meal was enjoyed. It was time to hit the dance floor! There were some 'creative' moves from students and staff alike; along with some members of the ball who took to the mic to entertain!
Thanks were given to the academy staff who had worked so hard to create this momentous occasion, and then it was time to draw a close to the night with a few familiar classics.
As we left the venue we were tremendously proud that the staff who had hosted us so well during the evening remarked on the conduct of our 2021 Leavers, describing them as polite, and respectful. It was further noted that we had left leaving only the trace of happy anecdotes behind us as the venue looked almost as it had on arrival.
In time-honoured tradition our coaches arrived back before the stroke of midnight and our leavers disappeared into the night with memories to last a lifetime!