Holderness Academy Making History!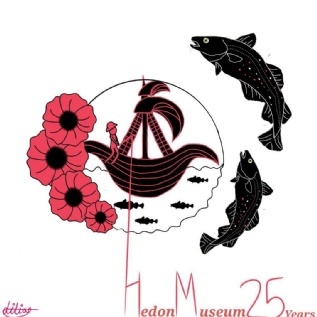 During 2022 Hedon Museum will be marking their 25th Anniversary with a number of events in our community. A competition was held for the designing of a logo, emblem, letterhead or similar that could be used on Merchandise, publicity letterheads during the year.
Open to all 11-18 year olds in the Holderness Community our Art Department were keen to promote and support this. Mr Green, art teacher and alumnus of Holderness Academy, took some of his students into Hedon and to the Museum to further their understanding of our local heritage.
Proud that so many of our students entered this competition, we were excited to host the presentations for this and to learn who the winner would be. The judging panel explained just how difficult this had been due to the high quality of the entries.
On Tuesday 8th February students gathered in the exhibition space to see their entries displayed and the presentations being made by a number of local dignitaries including members of the museum, the local mayor, local and regional councillors and the Chair of our Governors, alongside members of the press.
The wining entry was Lilia Fox who won a £40 Waterstone's voucher, followed by 2nd Place Samuel Marsdon (£20) and 3rd Place Thomas Hought (£10). Not placed but commended were Lilli Manley, Eve Sewell, Neve Waltham, Charlotte Woodward, Piper Walker and Luis Cheiu.
Sadly Lilia was not able to attend the event due to isolating but she did write an acceptance speech in which she thanked Hedon Museum for 'keeping Hedon's history alive' and explained she took her inspiration form Hedon's history as a port.
We are very proud of all the students who took part in this event and of how welcoming they were to our visitors who commented our student's polite conduct and the pride they take in their local heritage.