Greenpower Hull Street Race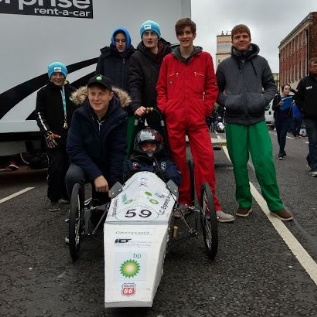 On Sunday 28 April 2019 Greenpower hosted the Hull Street Race, being the first ever electric closed road race in the UK. Holderness Academy students from Year 8 to Year 11 took part in the Greenpower Racing Competition known as the Afterburner Team.
Ray Norrie said 'On a cool, crisp morning the Afterburner team embarked on their latest attempt to move up the rankings of the Greenpower Racing Competition. Hope were high as we were about to introduce our two newest drivers Oliver and Benji. The first race started well and due to our rankings we were poised at pole position. Driver changes were as smooth as always and the car was performing well, at this stage we were moving up and down the rankings dropping a little to 12th place. Competition was fierce and within the blink of an eye Benji made contact with an erratic driver in front of him. Thinking the damage was minimal, he continued only to find the nose-cone was becoming detached and had to come in under a black flag as it was deemed to be too dangerous. We had lost a few places by then but through skilled driving from the team we managed a respectable 15th place.
After the de-brief with the drivers some tweaks were made to the car and Oliver lined up once again at the front of the grid. A brilliant start saw him hold on to the lead for a short while before some of the faster cars started to eat into our lead, however it was looking as if we could hold on to a good position this time. Suddenly, disaster struck and after a brief fight to try and regain control of the car, Oliver found himself heading to the barriers. With yellow flags raised, the car had to be removed from the track and assessing the damage showed it was the end of our race for us this time.
The 15th place in the first race still stood and although disappointed not to finish the second race, we retired with a determination to repair and rebuild the car to be better and faster in the next heat.
Another excellent event with a team that clearly gels well, whether driver or pit crew.
Thanks to all the parents for their dedication and help and of course the drivers and pit crew.'