TEAM HOLDERNESS EXPLORE ICELAND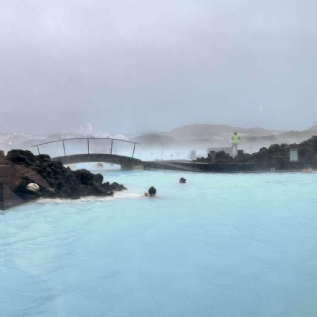 During the half term break, Holderness Academy & Sixth Form College students in Year 10 to Year 13 explored Iceland sightseeing waterfalls, volcanoes, geysers, volcanic beaches, geothermal power plants, glaciers, tectonic plates, lava fields, lava tubes, Reykjavik, The Blue Lagoon, arctic foxes and The Northern Lights!
On the evening of Thursday 9 February, staff and students prepared for their trip to Iceland and headed off to Manchester International Airport to board their flight to Keflavik International Airport. Upon arrival, the team took part in a guided tour of Reykjavik and enjoyed some free time for shopping on Laekjargata Street before heading back to the hotel for a well deserved rest.
Day two included a bright and early start, sightseeing and completing the Golden Circle Tour, visiting Gullfoss Waterfall and the Great Geysir, followed by a talk at the Hellisheidi Power Station.
'My favourite moment from Iceland was when we went to Gullfoss Waterfall, the views were unbelievable. It was funny because the wind was so strong I got pushed over!'

Abigail - Year 13
On day three, students continued their exploring and visited the South Shore to see the dramatic active volcanic landscape as well as visiting the Skogafoss and Seljalandsfoss Waterfalls. The Solheimajokull Glacier was the final stop for the amazing views followed by a visit to the Reynishverfi Black Beach which overlooked incredible views of sea stacks and Dyrolaey.
'One of my favourite moments from the Iceland trip has to be when we visited the black beach. I thought the beach was beautiful, and it was really strange to see black sand. It was also really funny when everyone ran back up the beach when a wave came very far up onto the beach.'

Katie - Year 13
On the final day, before returning to the UK, Holderness staff and students had the opportunity to visit The Blue Lagoon which was definitely a highlight of the trip! Upon arrival, they received a complimentary towel, silica mud mask and a drink of their choice before heading into the pool. Finally, students explored some lava tunnels on a guided tour and experienced true darkness when the tour guide turned all the lights off!
'The lava tubes were the prettiest part of the Iceland trip. The icicles coming up from the floor and the different colours inside the cave were weird to see. I enjoyed when they turned the lights fully off and all you could hear was the sounds of the cave itself.'

Maddie - Year 13
Overall, Iceland was an unforgettable experience for both staff and students and the team would love to return in the future!