'Poetry Escape' Competition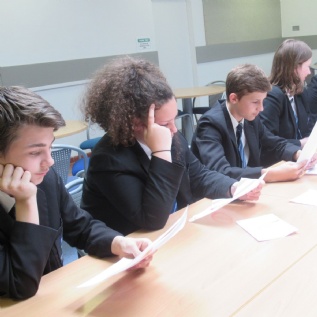 Young Writers is a company that aims to encourage young people to engage in creative writing. They have worked with schools, parents and young writers since 1991 by running national poetry and creative writing competitions through schools.
The 'Poetry Escape' competition has been designed to inspire secondary school students to express themselves through poetry, to provide them with a platform to voice their opinions, thoughts and feelings, to break down barriers, destroy stereotypes and liberate their creativity.
On Friday 17 May 2019, our English Junior Leadership Team worked together to help judge the entries for the 'Poetry Escape' competition.
Miss Bhim-Rao (Teacher of English) said: 'Following the promotion of the 'Poetry Escape' competition and two successful workshops, the English Junior Leadership Team thoroughly enjoyed helping to judge the competition. Congratulations to Jack Glew and Libby Darcy for the winning poems in KS3 and KS4. All entries have now been sent to the national competition and we wish them every success!'