Our Active Travel Ambassadors!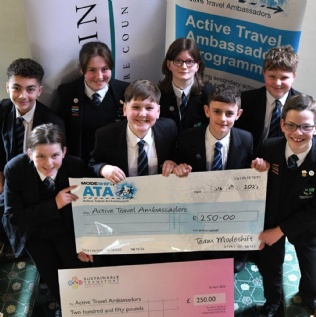 Holderness Academy Active Travel Ambassadors
Alongside ten other schools in the East Riding, a group of students at Holderness Academy have taken on the responsibility of being Active Travel Ambassadors. The government scheme involves training, resourcing, and supporting students to deliver actions in the school, to their peers and teachers. This approach contributes to student leadership skills and academic results. Over the course of a school year, with the support from designated staff, Active Travel Ambassador (ATA) teams research and develop behaviour change campaigns focussing on active travel, road safety and improving passenger experience.
On Wednesday 26th April, the Holderness Academy ATAs took their pitch to ask for funding for their campaign to County Hall to the County Junction.
The team were delighted to be awarded a grant of £250 which was match funded by the East Riding Council to support their campaign.
Jason McAleese the ATA Coordinator who supported the students said "It was amazing to see how their confidence grew when under the pressure of presenting. It was our biggest event in the country and the campaigns impact will hopefully be felt by over 10,000 school children in the East Riding".
The students received some fantastic feedback from the panel including John Whittle – Chairman East Riding Council who noted "a well thought out campaign, I think you are fantastic" and Emily Sykes – Modeshift ATA programme national manager who described it as "a very dynamic presentation, delivered with comfort".