London Art Trip 2019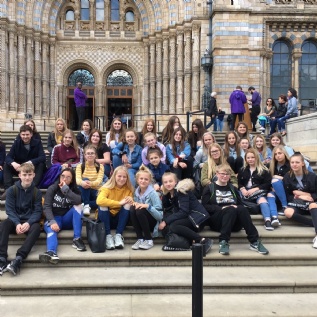 On the morning of Friday 7 June 2019 everyone gathered together at 6:30 am ready to take the train to London, which departed at 7:00 am. It was a nice easy train ride down to London since we had reserved seats and didn't need to switch trains.
30 Students and 4 Staff gathered in the hotel lobby, we dropped off our luggage and set out for a full day of exploring. First stop was at the Royal Academy of Arts where we were able to look around the Phyllida Barlow Exhibition and saw popular artwork such as Leonardo Da Vinci's 'The Last Supper'.
Next, we visited the huge Hamleys toy store, before we headed off to the British Museum, where we had the opportunity to look around the Japanese Manga Exhibition. The display of the culture and artwork in Manga was intriguing and we were given some time to explore the museum itself.
When everyone was gathered back together we headed out to Planet Hollywood for our evening meal. Not without a quick stop for the chance to watch some street performers. We then set off to the National Gallery where we were able to see artwork from Van Gough (Chair), Claude Monet (Japanese Bridge) and Henri Rousseau (Tiger in storm).
Finally, we had a walk through Covent Garden before getting back on the tube to the hotel. Early on Saturday morning, our first stop of the day was Camden Market to do some shopping and have some lunch. Next on the list was the Leake Street tunnel which was filled with graffiti; everything from tags to portraits to political messages. Here we took a great group photo under the graffiti. Then, we went to the Saatchi Gallery where we saw contemporary art.
Our next stop was the Natural History Museum where we explored, and we were given free rein to walk around to look at the different exhibits. We also managed to get another group photo on the steps of the beautiful building.
After this we went down to Wildwood. The food was delicious and it was a quieter and calmer atmosphere compared to Planet Hollywood.
Then, there were opportunities for some photos of the Tower of London, the Shard, the Thames and Tower Bridge. It was a long walk to the Tate Modern but in the end the view over London from the 10th floor made it worth it. Sunday was all about getting on the train home and we were on the train by 11:15 am. Overall, the trip was a huge success and it is a great opportunity to appreciate some amazing artwork in person.