Hull Fishing Heritage Art Exhibition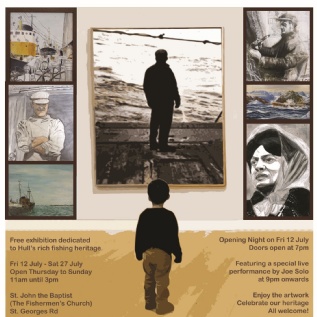 Holderness Academy will continue their celebration for the arts with their support of The Hull Fishing Heritage Exhibition which opens this year for the first time since the City of Culture show. Holderness Academy has contributed significantly to the artwork with both staff and students once again creating a range of drawings, paintings, sculptures and textiles pieces.
The exhibition will take place at The Fishermen's Church, St. John the Baptist on Hessle Road. The beautiful setting will this year play host to an Opening Night which will include live music from the Hull Folk Collective and Joe Solo. Joe Solo will be performing his album Headscarves and Hurricanes which is inspired by Lil Bilocca and the campaign to improve safety standards on all trawlers.
Adam Cotson, Head of Art at Holderness Academy and organiser of the event says 'It was always our intention to create a legacy when we started this exhibition in 2015. The City of Culture support really helped us set up the resources to make the Hull Fishing Heritage Exhibition a biennial event which would continue to celebrate and honour Hull's rich fishing history. This year artists from all over Hull (and even Holland) have submitted fresh work which captures the people, the trawlers and life on Hessle Road during Hull's fishing heyday. We hope everyone who visits the exhibition will be entertained and inspired.'
The exhibition will open on Friday 12 July and will continue to be open 11am-3pm Thursday - Sunday until the 27 July at St John the Baptist church – St George's Road.