Yorkshire Sculpture Park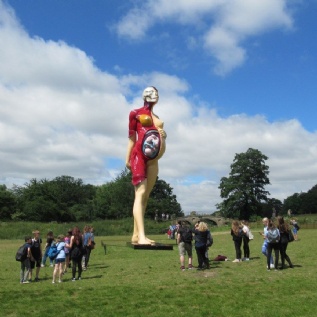 On Friday 5 July 2019, Holderness Academy students and staff headed out for their annual trip to the Yorkshire Sculpture Park. Students had the opportunity to explore the amazing scenery and observe the sculptures in order to get a sense of the scale and the meaning behind them.
During our visit we was fortunate to see a range of different exhibitions including; Ai Weiwei: Circle of animals/Zodiac Heads, Kimsooja: To Breathe and Damien Hirst. In the morning our first stop was the Kimsooja: To Breathe Exhibition, which was based inside an old chapel. Kimsooja transformed the historic chapel into a space full of mirrors, and using diffraction film on the windows, to create rainbow reflections across the room using light. Next, we began to explore the Open Air Exhibitions where we saw artists' sculptures such as; Damien Hirst, Bob and Roberta Smith: All Schools Should Be Art Schools, Jaume Plensa: Wilsis and Niki De Saint Phalle: Buddah to name a few.
Finally, we visited another indoor exhibition, based in The Weston Gallery, called Thukral and Tagra: Bread, Circuses & TBD. This exhibition was based around wrestling and was an opportunity for us to interact and get involved with the exhibition itself, as it invites visitors to try out different wrestling manoeuvres by placing their hands and feet on different numbers, similar to the game Twister. This was a fun activity for students and staff to get involved and was a great opportunity to get a photo of the final pose.
Overall the trip was a huge success and we look forward to our visit again next year!