Fishing Heritage Exhibition Opening Night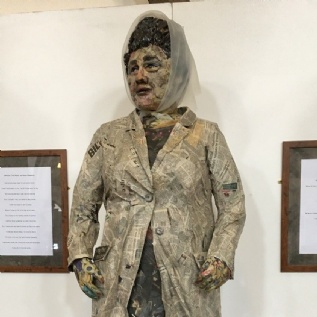 Holderness Academy Heralds Fishing Heritage
The opening night of the Hull Fishing Heritage Exhibition was a very proud event for the staff and students of Holderness Academy. Over half of the artwork on display was created by students, current staff or ex-staff of the academy.
The artwork drew lots of praise from the many visitors who attended, including trawlermen, their families, Dr Alec Gill MBE and Brian Lavery, author of 'The Headscarf Revolutionaries' and 'The Luckiest Thirteen' who messaged the academy to say 'Congratulations on your outstanding work'.
Many of the students attended with their proud families and enjoyed the artwork along with the many public visitors. Adam Cotson (Head of Art) said 'I am so proud and thankful to the students and staff who have supported this great community exhibition with their hard work and talent. It is very rewarding for us to connect with the community, to use art to bring people together and to share ideas and stories of Hull's history and heritage. I am proud to work with such hard working and talented people and I hope that the exhibition can bring lots of joy and entertainment all who visit.'
Staff in the Creative Arts faculty worked together to organise and put together the impressive displays which include paintings, prints, sculptures, digital displays, banners and models of trawlers and the docks. The exhibition continues a legacy cemented in Hull 2017 as part of the Creative Communities project and which began two years prior in 2015 with the first of Hull Fishing Heritage Exhibitions organised by students at the academy.
The evening was capped off perfectly with the performance of 'Headscarves and Hurricanes' by Joe Solo and Rebekah Lindlay. Emotions were running high as the artwork and music seemed to really touch upon the heart strings and memories of so many of the visitors.
The exhibition is open Thursday, Friday, Saturday and Sunday from 11 until 3pm. It closes on Saturday the 27th July.