A-level Results Day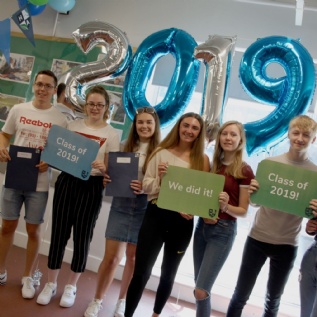 Holderness Academy & Sixth Form College are delighted with their latest set of A-level results. The Class of 2019 have performed exceptionally well as a group as well as some excellent individual performances.
Notably, Papinder Nahl achieved two A* grades, an A grade and a Distinction grade. She will go on to read Law at York University. Matthew Dixon achieved three A grades at A-level and will read Dentistry at the University of Leeds. Excellent individual performances were also seen by Holly Cooke, Ellie Nelson and Katie Teall who all achieved an A* grade, an A grade and a B grade at A-level. Likewise, excellent results for Ellie Weightman with three A grades and a B at A-level and Megan Harman-Bevan with two A grades and a B grade at A-level who will decide whether to read Medicine or Physiotherapy.
As the Sixth Form is inclusive in nature, many students had followed a mixed programme of A-levels and vocational courses. Mirella Dry being an example of this as she achieved two Distinction grades, a B grade and two further A-levels and will study Textiles at Plymouth College of Art.
While many students progress directly to university, many of our students have secured employment and apprenticeships. Victoria Robinson achieved an amazing five A-levels including two A grades and two B grades and will work for the Metropolitan Police. Students that have gone on to high level apprenticeships include the likes of Harry Giles (Smales Golding) and Lauren Thompson (Informed Financial Planning).
Neil Pinder (Director of Key Stage 5) stated that, "these results are indicative of how hard the students and staff have worked this year and highlight a consistently high level of individual student performance over the last two years. We are enormously proud of our students who continue to achieve results that have seen every student that applied for university achieve a place. The sixth form has a diverse range of students across all abilities who are moving into further study, high level apprenticeships and employment. They deserve to be pleased with these excellent achievements."