Holderness Academy & Sixth Form College get New Wheels!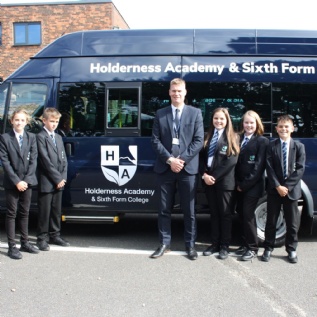 This week Holderness Academy & Sixth Form College see the exciting arrival of two new shiny mini buses emblazoned with the Holderness Academy badge. These two buses, which each carry 16 passengers, have been made possible with the change in funding affected by the Academy joining The Consortium Academy Trust. This will enable Holderness Academy to participate in an even wider range of sporting and academic events and competitions beyond the Holderness area. It will allow for a wider curriculum delivery due to networking with other schools in the trust. Furthermore, it will create more opportunities for the Academy to work with its primary feeder schools to bring together Year 5 and Year 6 students in collaborative projects and workshops.
Some of the Academy's Year 7s, who have already signed up to the wide range of sports clubs on offer, were the first to take a look inside the new transport with Mr Wilson, the Headteacher.
Students shared their initial thoughts. 'It feels really good how fast the Academy is improving' said Grace. Neve was excited about the provision for wheelchairs 'it's great because it has access for all.' Whilst Evie liked the branding 'I love the school badges – people will know we've arrived.'
Mr Wilson said 'the mini buses will allow our students to access a wider range of opportunities available to them and further enhance their learning whilst at the Academy.'