International Women's Day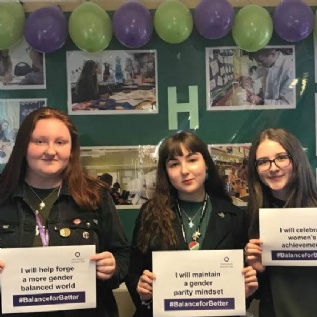 The Academy recognised International Women's Day in a bid to raise awareness of gender bias in the workplace. The #BalanceforBetter campaign this year encouraged organisations to come together to discuss the most common ways gender bias plays out in the workplace, with concrete actions you can take to level the playing field.
Teachers dressed in purple and green to show their support for a balanced world. Staff displayed posters on every door recognising an inspirational woman. Each lesson began with a starter that explored the influence or impact of an inspiring female. An exhibition shared innovations and inventions created by women from the circular saw to Bluetooth technology. The most inspiring and moving event of the day was when three sixth form students took it upon themselves to deliver a sweet treat to all female members of staff to thank them for 'being inspiring'.