Holderness Student Council Working With Local Government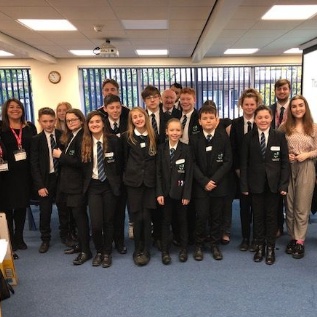 On Tuesday 26 November the Holderness Student Council hosted a Children and Young People workshop run by Councillor Kerri Harold, the Chairman of the Children and Young People Overview and Scrutiny Committee. Also in attendance were: Councillor L Bayram, Councillor Chadwick, Councillor Coultish, Councillor Handley (Vice-chair), Councillor Sutton, Councillor Weeks Senior Committee Manager Alison Finn and Liz Russell.
Students learnt how Local Government operate and what it is responsible for. They got to debate difficult decisions that councillors might have to make such as; switch off the street lighting or cut refuse collection?
Students then worked in groups to come up with a project they wished to research and present later in the year at County Hall. Topics were pitched and votes were placed. The voting made use of the official voting boxes and counting was officiated.
The decision was made that the students will research the provision for the support of Mental Health and Wellbeing for young people within their communities. The student council are excited to be invited to Beverley to present their pitch in March next year and work is already underway.