Holderness Academy Planting for The Future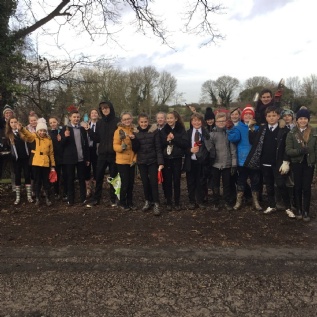 This term, Holderness Community Orchards (
http://www.orchardsforholderness.org.uk/
) invited us to help plant a fruit orchard at Elsie Gate in Hedon on 11 December 2019. 24 Holderness Academy student volunteers donned their wellies, gloves and trowels and got stuck into planting a mixture fruit trees, many of them 'heritage' varieties, including apple, cherry, pear, gage, damsons and plum trees.
The aim is to build a resource for the people of Holderness that will provide varieties of fruit for local people. Not only will it provide healthy fruit to share, it will act as a green haven for simple contemplation and enjoyment. Orchards can act as carbon sinks as well as provide habitats for wildlife.
The project will not only help to promote healthy eating, it will allow children and young people to learn about and reconnect with nature, whilst generating a stronger community identity.
Mr Green, who took the students along with Mrs Saltmarsh, said 'In years to come, I'm sure the students involved in the planting of the orchard will revisit and take pride in the knowledge that they helped make it happen.'
A fantastically muddy day, full of good will and community spirit, that ended with a warming hot chocolate treat!