Holderness Students 'Speak Out'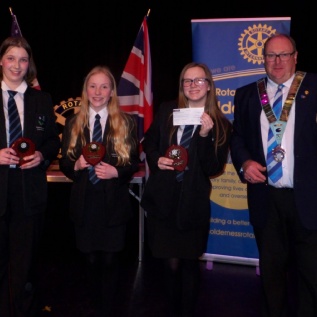 On Saturday 30th March, the Holderness Academy senior team,will be heading to Grantham to take part in the annual Rotary Club regional Youth Speaks final.
The competition is a well established and prestigious event which provides a platform for students to develop their public speaking skills.
After facing tough competition during the local round, held at Wyke College, the team successfully emerged as deserved winners. The team consists of Rileigh Grantham (chairperson), Madelaine Stannard (main speaker) and Libby Darcy (vote of thanks) who chose to speak about the plight of exotic animals who are kept in domesticated environments. The speech 'Baby Shark: on the screen or in your home?' was praised for engaging content and delivery with Madelaine also scooping the prestigious 'main speaker' award.
Mrs Lowery, Director of English at Holderness Academy, stated: 'Our students continue to make the school community proud of their achievements. Oracy and public speaking is an important part of our curriculum and allows students to develop their communication skills. We are delighted our students are being recognised for this skill'.