Professional Adventurer Inspires Students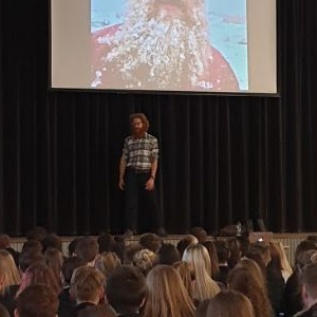 Sean Conway, professional adventurer, has: cycled, run and swam Britain, completed a 4200 Mile World Record Triathlon, holds the world record for cycling the fastest across Europe and has cycled around the world. Sean visited Holderness Academy on 3 April and shared with students his adventures describing adventure in its purest form as 'simply a way of thinking'.
He shared with students the things he has learnt during these exceptional achievements and the importance and value of resilience, determination and 'thinking big'. He shared his realisation of the significance of surrounding yourself with the 'right people', pushing yourself and learning from failure.
He gave his inspirational talk to a collection of Year 9, Year 10 students with a focus on Year 11 who are about to embark on one of their most challenging journeys as they embark on their exams. His message was 'Plan to Achieve' and 'Keep focused' – he certainly is proof of what can be done when this is put into practice. Students will now begin their Easter revision motivated to keep going even when 'times are tough'.
Mr Briggs, the Year 11 Progress Leader, said 'Sean was an absolute inspiration to the young people of Holderness Academy today, his sheer determination to prove people wrong and overcome failure made our students feel like anything is possible. We have a fantastic group of young people at the Academy and believe one day every student can emulate Sean's resilience and hard work to achieve their own dreams.'
'We are delighted to have welcomed Sean to Holderness Academy today, he truly is an inspiration for our young people and they appreciated his honesty, plain talking and engaging manner. He was extremely generous with his time and I feel certain the experience will stay with our students throughout this examination period and beyond as they embark on their adult lives.' said Mrs Young, Interim Executive Headteacher.