Holderness Academy continues to "smile with the risin' sun"!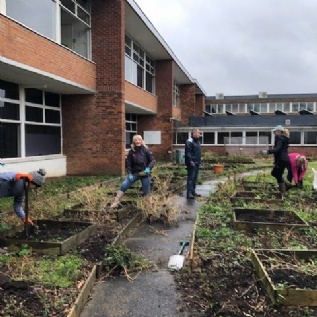 On Saturday 14 March the sun was shining, plants were unfurling and stretching to the sky and Holderness Academy enjoyed its first Community Gardening Day. Spring had sprung and we had sprung into action. We were fuelled on a shared picnic of hotdogs and brownies; students, staff, parents and governors all donned their gardening gloves and set about reviving a community garden known as "The Quad". We left that evening full of good spirits; we ached and were tired but we had come together as a community, worked closely and made a difference. We looked forward to watching the fruits of our labour, quite literally, grow- In the words of Dinah Washington, "What a difference a day made. Twenty-four little hours. Brought the sun and the flowers"!
What a difference a week made! Five days later and that community was dispersing in preparation for lockdown. One of Holderness Academy's core values is resilience; our community was physically dispersing but we knew it would be more important than ever in the following weeks and that we would find ways to see it flourish.
As the UK settled into a new Thursday night routine the children of the NHS and Key Workers that continued to attend school wanted to make clear to the community that Holderness Academy are extremely grateful to all the people working hard to keep us safe. Using what resources they had, a banner was produced for the front of the school. Students were excited and proud to see that a photograph of their handiwork had been tweeted by our local community police officer, even before school started the next morning. Holderness Academy was still there and still caring for the wider community.
There had been big plans in Hedon for the VE75 weekend and Holderness Academy had been attending Hedon Town Council meetings for months in order to support these preparations. It is a great shame that these celebrations will not come to fruition but, as plans adapt to encourage house decorating and household tea parties, we have plans of our own. Work has begun on bunting, a sculpture produced by prior students is coming out of storage and fancy dress is coming together for the big day!
So, what about the students at home? Out student voice is strong and at the centre of this is the Student Council which has established a new, weekly routine to provide updates on a Monday morning. Whilst most students have taken well to creating their own distance learning routines and habits, the Student Council reported that they spoke about missing each other, the staff and the community. The Student Council have also created their own short story competition and, following this, departments have started to launch other competitions starting with our "Healthy Selfie" competition for both staff and students; seeing pictures of those we miss makes a big difference to our wellbeing, as does getting that personal message. How many of us read an email in the voice of its sender? Every tutor now also messages their tutor group each week and begins a remote correspondence. The Student Council feedback is that this has had a significant impact on student wellbeing.
Could we make an even greater impact? Could staff collaborate as a community, work together and show how much we care? Of course we could! Instruments got dusted off, fancy dress outfits came down from the loft and staff got creative. We were good to go and launched our first ever music video! Our rendition of "Three Little Birds" brightened the day of Holderness students and the wider community with over 5000 views in the first three days. The strong message we got back was that students knew we cared and felt a sense of us all coming together. Our community continues to flourish in these challenging times. Once more we have "Brought the sun and the flowers".
Finally, back to The Quad. Have the weeds taken over once more? Have the seeds that were sown sprouted and then shrivelled? Is it a barren reminder of a world of social distancing and isolation? No, of course it isn't! It continues to be cared for and enjoyed by a core number of staff and the children of NHS and Key Workers. It continues to develop, flourish and grow and it signifies what makes Holderness Academy a resilient, thriving community, even in adversity. It continues to remind us all to look forward to when we can all enjoy its space together as a community again and continue to "smile with the risin' sun"!