Sixth Form Distributing Face Shields In Our Community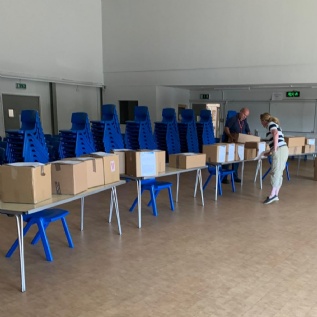 Thursday 21 May saw the culmination of collaborative planning over several weeks; Holderness Academy distributed nearly 2000 face shields to care homes and other carers working on the frontline in our community.
Working in collaboration with Hull University's 'Let's do something extraordinary' campaign, six of our Sixth Form students set about supporting the distribution of the face shields produced by Hull University.
The face shields have been co-designed with NHS Consultant Doctors & NHS Health Commissioners. Versions of the face shield were tested with NHS staff as the university worked in partnership with local business Advanced Plastics, who currently produce 20-35,000 face shields per week. £80,000 was raised through crowd funding and donations and over 10,000 PPE face shields have been donated to the NHS in our region so far.
To benefit the wider community of carers on the front line, and triple the number of face shields already donated, the university appealed to local Sixth Form Colleges to work collaboratively, in teams, to make this happen. Students who volunteered were asked to identify the care homes and other organisations in their community that needed PPE face shields, contact them to find out what quantity they needed and find adult volunteers who were willing to distribute them.
Dr Fiona Walkley, Marketing Lecturer at Hull University Business School said "I've been truly impressed with Sixth Form students taking part in taster sessions with live projects. From the creativity to their professionalism". Faye Sims, Head of Sixth Form, at Holderness Academy wrote to the students saying 'I want to say an enormous well done and thank you for the commitment you have shown to this project, I couldn't be more proud of you. You have shown incredible skills in organisation, logistical thinking and maturity.'
Our University Lead, a previous Sixth Form student, Dawn Walker has been of tremendous support to the six student volunteers. These students are Umar Ahmad, Rileigh Grantham, Alisha Gilbert, Harry Spillings, Caitlin Davis and Sarah Colls. The volunteers who delivered the shields were all members of staff at Holderness Academy.
Rileigh explained how being part of this has supported her aspirations to work in health care: "Although I knew I desired to pursue a career in medicine before this experience, it has facilitated me in understanding how to communicate with a variety of members of the community".
Alisha described how being part of the project increased her confidence: "This project allowed me to develop my confidence, especially when it came to communicating with several members of the public over the phone which I had previously found quite daunting. We were able to develop our ability to work as a team as we were able to effectively organise and plan the distribution of PPE by discussing the ways in which we were going to approach the task as a group. We then each assigned a number of places that we would each contact and would regularly keep in contact with each other about the progress we had made."
Harry identified that he would be volunteering more in the future: "We have all been encouraged to take part in other volunteering options that are available in the future as we have all seen the positive effects that helping to distribute essential PPE has had on many members of our local community, especially in such challenging circumstances."