Holderness Academy Christmas Service held in 'The King of Holderness'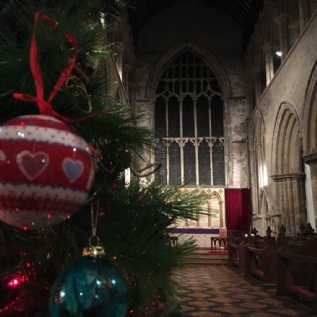 Holderness Academy began their Christmas celebration with its long standing tradition of a service in St Augustine's; Hedon – otherwise known as 'The King of Holderness'.
Those attending on Wednesday 12th December were treated to a stunning candle lit procession that opened the service as students sang 'The Carol of Bells'. Traditional carols were sung by the choir made up of over 60 students accompanied by the Academy's brass band.
The nine readings were delivered by students from Y7-13 alongside the Chair of Governors Mr Steve Gallant (also the Mayor of Hedon) and Mrs Young the executive head.
Mrs young said the event was ' A fabulously festive evening at our Carol Concert this evening. A beautiful venue was provided by St Augustine's Church for a true community event. Staff and students working together with the support of our wider community. It was a celebration of the meaning of Christmas and provided an opportunity for a good sing song.'
Mr Sleight, the head of Music, said 'I am so proud of all students involved. Everyone has worked extremely hard in this very busy season. Thank you to all the talented students and supportive parents for making this a special community event.'
Reverend Dr Susan Pulko, who joined St Augustine's this week, said 'Connecting the Academy to the community in this way each year is a wonderful opportunity to showcase the student's musical talents, whilst also opening them up to the Church and the beautiful setting we have here at St Augustine's.'
The service concluded with a much loved reading of 'Twas the Night Before Christmas' which created that magical element for younger members of the congregation. Over 200 members of the Holderness Community attended the service that for many, in the local area, marks the start of Christmas.